Learn more about using the attached documents from Microsoft Outlook email to directly start creating Precisely projects
By connecting Precisely to your Microsoft Outlook E-mail, you can directly use an external contract from the email attachment to create a Precisely project.
Do you often work with third-party contracts and need to import them as a part of Precisely projects? If yes, forget down- and uploading! Instead - start drafting directly from the specific Outlook email.
In this article, you'll learn more about:
How does it work?

How to set up the integration?

Is this integration included in my plan?

Do you have any other Microsoft integrations?
⚠️ IMPORTANT! Please note that the integration is currently in its BETA version. Therefore, we'd love to hear your feedback and see how we can improve your experience of using Microsoft Outlook Email with Precisely.
---
How does it work?
To use a document from the email attachment and start drafting a Precisely project, simply
Open that specific email where the attachment is.
Select a Precisely template you'd like to use for this project. Note that you'll only see templates with the Allow uploads toggle on that you can also access in Precisely.
Check which attachment(s) from the email you'd like to include.
Choose if you'd also like to upload an email thread as a separate zipped EML file.

EML stands for ​​an "electronic mail format", which is the email content saved in plain text. It includes messages, senders, time, and more. This type of file can be sent/received through RFC-822-compliant email programs (one of them being Microsoft Outlook).



Finally, click the "Create project in Precisely" button.
Once you clicked the "Create project in Precisely" button, you'll end up in Precisely's project draft (= the questionnaire).
There, if you decided to include them, you'll be able to see your PDF email attachment(s), as well as all email information and content (messages, details on e.g. senders and time) in a separate document as a zipped .eml file.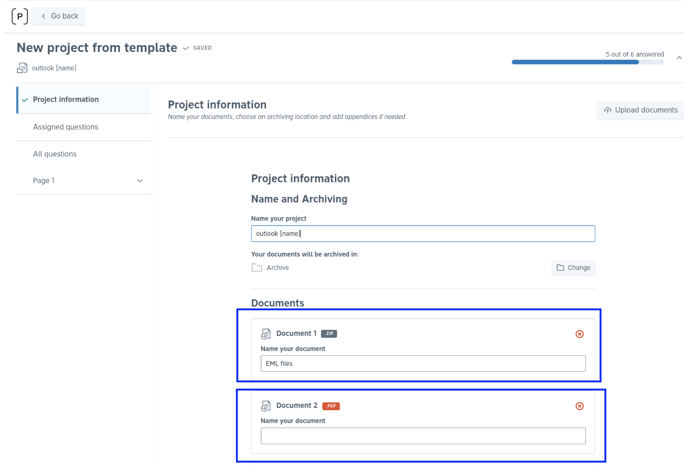 Then, simply answer the rest of the questions from the questionnaire (if any), to generate a new project with documents and send it for further steps - such as approval, review, and signing.
If you decided to include the .eml file, it will be zipped and available in Draft & Sign under Supporting files.

Supporting files are the internal files available only to teams that also have access to that specific project in Draft & Sign.
⚠️ The files are not visible or reachable through the Archive.
---
How to set up the integration?
Precisely can be integrated into your Microsoft Outlook E-mail by the eligible Microsoft Admin:
Go to Microsoft 365 Admin Center
Click Settings

-->

Integrated Apps
In the App type field, Select Office Add-in
Below, provide the following URL link: https://outlook.precisely.se/manifest.xml

Click "Validate" and continue the installation

Select which users should have access to the integration (Note that users in Microsoft must also be Precisely's Admin, Manager, or Member user - read about user roles in Precisely)

Complete the deployment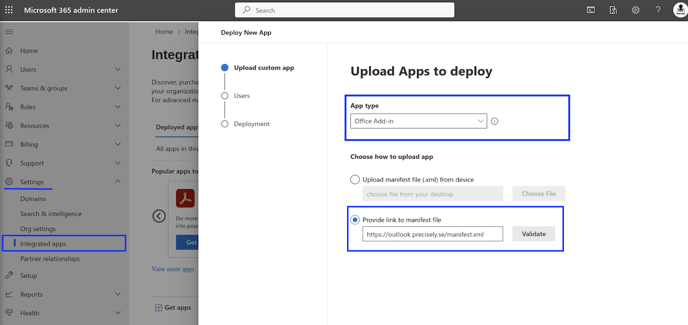 ---
Is this integration included in my plan?
The integration is included in the Enterprise Plan. All you need is a Precisely account with the right permission (admin, manager, or member user) and a Microsoft 365.
Still unable to connect? Precisely's plan "Professional" doesn't support this integration. Please contact us if you'd like to upgrade.
---
Do you have any other Microsoft integrations?
Yes, we do! At the moment, you can integrate Precisely features into your: