Learn more about the possibility to let your signees sign Precisely Contracts directly on your device
When the signing process is initiated from within the Precisely platform, the signees will always receive an automated email notification. When it's their time to sign, they will be able to access and sign the document by clicking the link and following the instructions provided in the email.
However, with Precisely, it's also possible to sign contracts directly in the platform - without emails being involved. This means that your signees are able to sign agreements directly on your device (e.g. tablet or an iPad), which makes the entire signing process faster and more efficient if the signing takes place in person: a perfect solution for any contract signing that would otherwise happen physically.
How does it work?
To set this up, you need to have in-person signing enabled for your organization (Contact us).
Then, in your templates, you'll see a toggle called Enable in-person signing.
By turning the toggle on, you will be able to choose between regular e-signing (via email link) and in-person signing for all documents generated from this template.
Please note that only admin users are able to turn the toggle on and/or off.
You're even able to decide on a different method for each signee. To do that,
add a signee
select Authentication to Sign: Click to e-sign (regular signing via email link) or sign in person (signing directly from the project in Draft & Sign)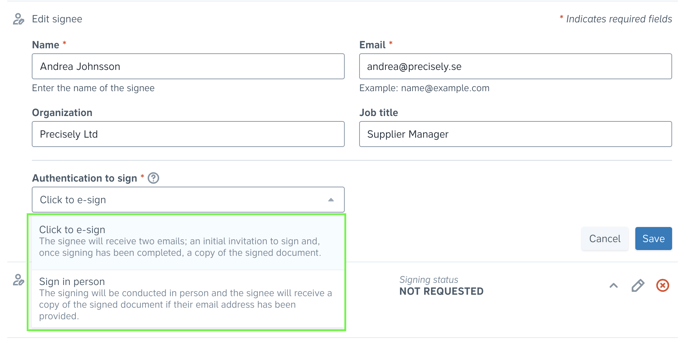 Once everything is ready, simply click Send for signing.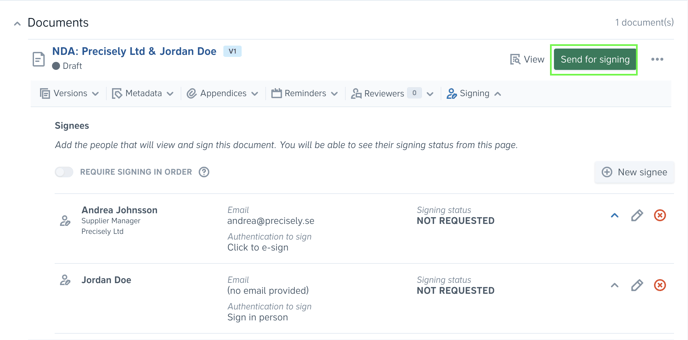 Signees with the signing method "Click to e-sign" will receive an email where they can access and sign the document.
Signees with the signing method "Sign in person" won't receive any notification. Instead, an internal Precisely user with access to that project in Draft & Sign needs to initiate the in-person signing by clicking Start in-person signing.
Please note that it can take up to 30 seconds for the Start in-person signing to appear.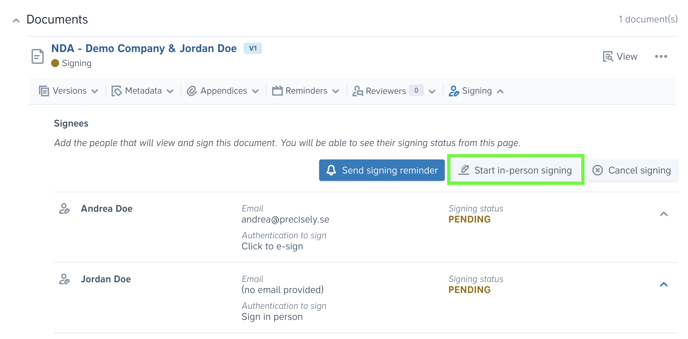 After selecting which counterparty should sign, the Precisely user should pass the device to the counterparty who is about to sign the contract on, for example, a tablet or an iPad.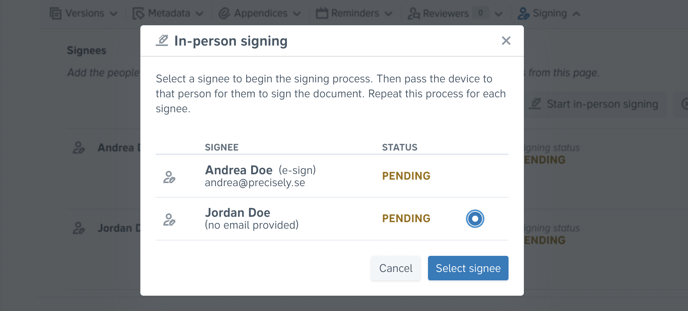 The counterparty then needs to check the box and confirm their name.
After they've done that, they are able to open a document and sign it directly.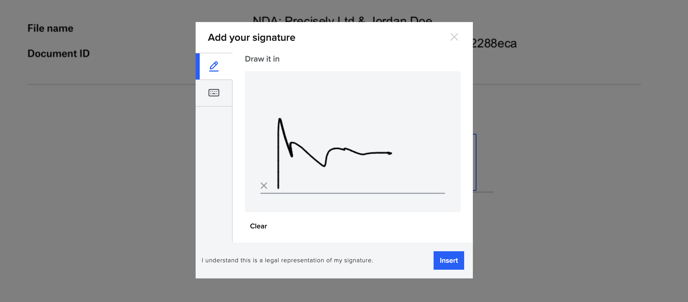 That's it! Simple as that.
Technical and legal specifications
Signing features
it is possible to combine different methods in one document (e-sign + in-person)
if there is at least one "in-person" signee included, it is not possible to use Signing in order
if a signee should sign in person, it is not mandatory to enter their email beforehand
once everyone has signed, "in-person" signees will receive a signed copy only if an email has been provided
Signing provider and methods
the signing provider used for this way of signing is Dropbox Sign (formerly HelloSign), which is our default signing provider in Precisely. This means that your template must have Dropbox Sign as a signing provider in order to set up the in-person signing.
While the "e-signing" method with Dropbox Sign is a default, the "in-person signing" method is an additional feature (Contact us to get going!)
Audit trail
Make sure you're aware that the audit trail for "in-person" signees is not as extensive as in the case of e-signing. For example, since the "in-person" signee does not log in to their email, but signs directly, there is less proof of their identity. Please check if this is compliant with your use case. And if you have any questions remaining, don't hesitate to reach out.
P.S: Using our Public API to integrate Precisely's functionalities into your own system also allows you to set up the embedded signing. This means that you can let your counterparties sign Precisely Contracts directly in your software, website, or app - with no emails involved.
Amazing, right?