Learn more about using Precisely's contract automation and contract management functionalities from within your HubSpot environment
Integrating your Precisely and HubSpot platforms enables you to manage your contracts and use pre-set Precisely templates directly in HubSpot to create contracts with one, simple click.
Why integrate Precisely with HubSpot?
With Precisely + HubSpot integration, you can easily
✅ Create sales contracts in a second
Create your sales contracts in a second, with a simple click. Simply set up your metadata, references, formulas, and contract approval flow in Precisely once, and all data will be auto-populated from HubSpot, including your contact's information. Truly a time-saver, right?


✅ Send contracts for digital signing
After generating a contract, you're able to send it for legally binding e-signing from within HubSpot. All you need is the signee's email address - that's it! Once everyone has signed, all parties will receive a PDF copy on their email.
✅ Keep full control of the signing process

Besides sending contracts for e-signing, you're also able to manage the signing flow by editing signees, and if needed, canceling the signing and re-sending the contract.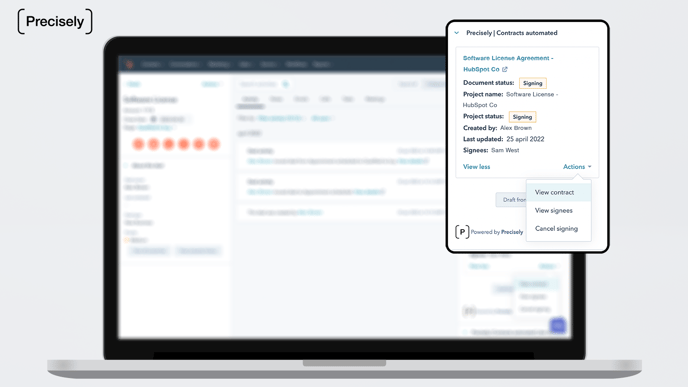 ✅ Stay on top of the contracts
You can easily keep an eye on your contract's status to see if they are in a drafting stage, lacking an initial or final approval, in the process of negotiation, or simply awaiting signature. On top of that, you can always view, delete or download your generated contract.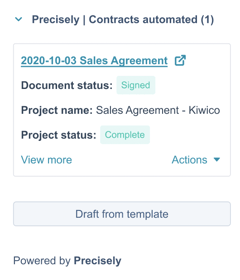 All of this within the HubSpot platform!
How to connect HubSpot to your Precisely platform?
In order to set up and use the integration, you need to do the following steps:
Step 1/3: Request the integration
Step 2/3: Map Precisely references with HubSpot fields
Step 3/3: Draft Precisely contracts directly in HubSpot
In the next part, read more about each step.
Step 1/3: Request the integration
Start by accessing your Integrations page in your organization.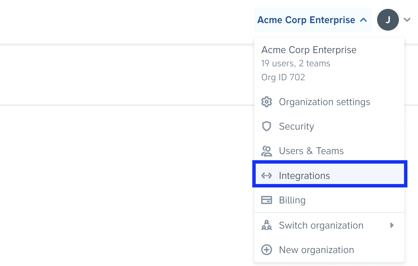 Under HubSpot integration, click the blue button Contact us to connect. This enables you to send an automatic email to your Customer Success representative letting them know you'd like to integrate Precisely with HubSpot.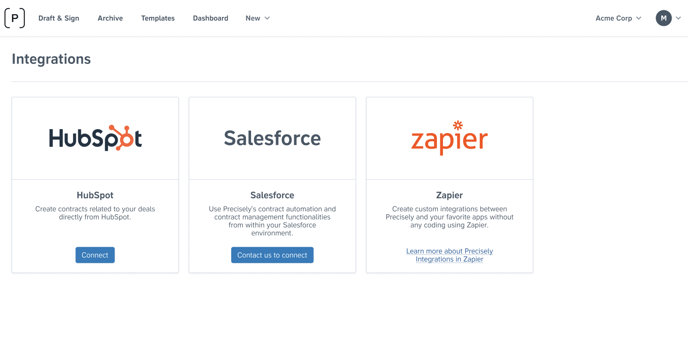 Don't forget you can also directly contact the person responsible for your account or simply write in the chat.
After getting in touch with us, we'll set everything up for you. Then, the button Contact us to connect will turn into Connect, where you can simply click to proceed.
The only thing that's left is to grant permission, and you can do that by going back again to your Integrations page. And that's it, you're connected!

Step 2/3: Map HubSpot fields with Precisely references
The next step includes connecting relevant HubSpot fields with Precisely references directly in Precisely templates that you'd like to use in order to draft contracts directly from HubSpot.
Start mapping:
click the Add new mapping button
select the existing reference in your template (e.g. name_of_counterpart)
connect the reference to one of the relevant HubSpot fields (e.g. Company name)


You can even use more

advanced mapping and connect one Precisely reference to several HubSpot fields. company_address --> "Street Address, Postal Code City, Country/Region" (see the picture below)
click the Save button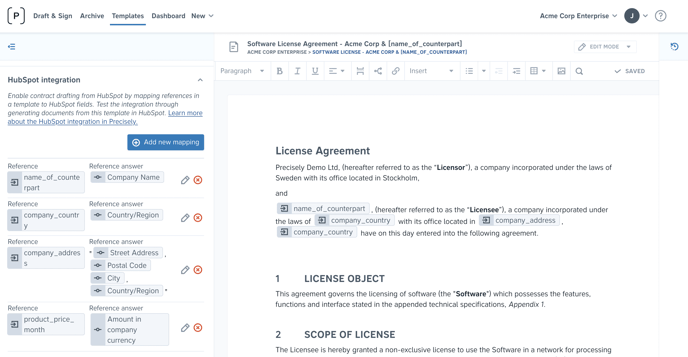 The Precisely team is always happy to assist!
Step 3/3: Draft, sign, and manage Precisely contracts directly in Hubspot
The final step: simply start using your integration!
After mapping the reference, you'll be able to draft contracts from automated templates directly in HubSpot, right next to your HubSpot deals. Ideally, all the data will be auto-populated in a second and the only thing that's left is to add signees.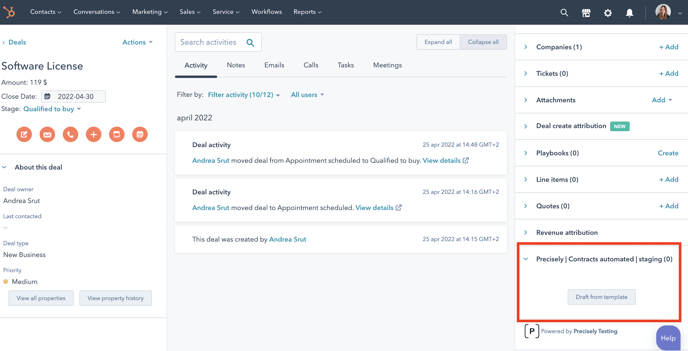 Besides sending the contract for signing, it is also possible to control the signing flow by adjusting the signing parties. In Hubspot, you're also able to follow the current status of the contract, such as draft, review, initial/final approval, signing, or signed.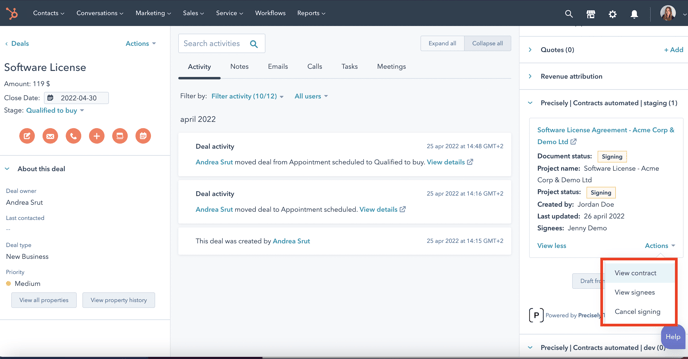 And don't forget: Precisely contracts generated in HubSpot are always going to be displayed and accessible in the Precisely platform as a part of automatically stored Precisely documentation - both in Draft & Sign, as well as in the Precisely Archive.
Curious about this integration or in a need of more help? Make sure to get in touch.