Learn more about using Precisely AI for smart and quick contract intake
Precisely AI is our latest great addition to smart contracting that makes your external document intake smoother than ever. The AI recognizes a large number of metadata tags, values, clauses, and even summarizes the document.
How does it work?
Precisely AI will suggest metadata tags and values for external documents (PDF) you upload or import in Precisely. (Note! You can also work with DOCX format, but the preview of the document won't be directly available in the platform. Therefore, we suggest PDF)
'In other words, if you allow so, Precisely AI will work with:
Documents uploaded as a part of the drafting process
Documents uploaded via Upload & Sign button
Documents directly imported into the Archive
⚠️ To learn more about managing where AI will work, scroll further to read the part of this article called How do I control where AI is active?
Start by uploading or importing a PDF document - for example, as a part of the project draft: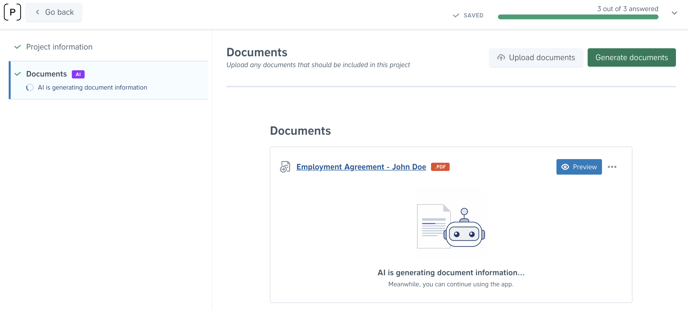 Then, simply let artificial intelligence do its work. If you want, you can continue managing your project and even generate it while the AI is analyzing the document information.
Once the analysis has been completed, you can easily accept or dismiss suggestions.
Where can I see AI suggestions?
Project draft: In the project draft (= the questionnaire), you can do that directly or by clicking the "Preview" button to open the entire AI registration page.

Project overview: You can also reach the AI registration page from the project overview Draft & Sign by clicking the "View & register" button.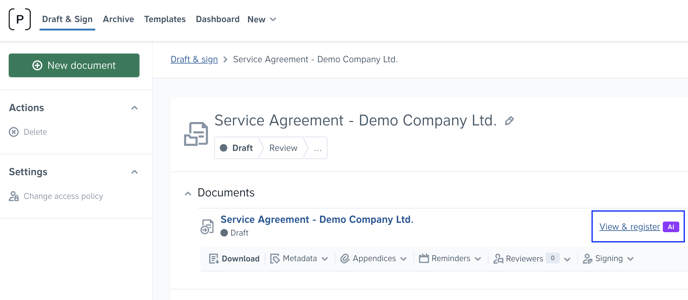 Archive: In the Archive, by opening the document and clicking the "View and register" button.

How to work with AI suggestions?
Once you opened the registration view, simply accept or dismiss each suggested value.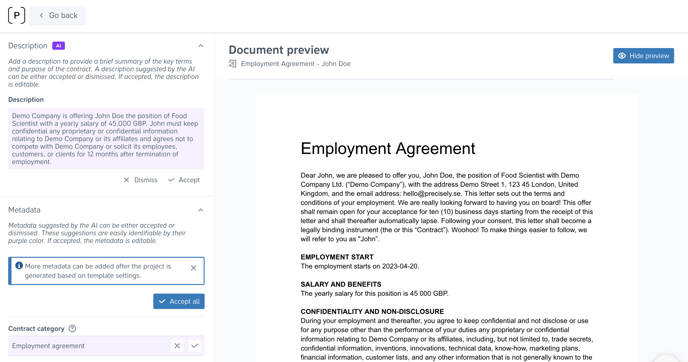 If you want to accept all of the suggestions, simply click "Accept all".
Pro tip💡 If you want to accept most of the suggestions, you can still click "Accept all", and then remove the ones you don't want to include.
On the AI registration page, you can also edit and add more metadata manually, and even adjust your contract summary.
How do I control where AI is active?
You're able to customize and choose in which parts of the platform the AI will work.
For documents uploaded as a part of drafting from a template, you need to enable AI per template (this is off by default).
To do this, open your template and click
1) Allow uploads of documents, and then
2) Enable AI suggestions in projects

For documents that are directly imported in Archive, or uploaded via Upload & Sign button in Draft & Sign, you need to
1) Go to your organization settings (available to admin users)
2) Turn on the toggle Enable AI suggestions in Archive (it is off by default)

Important Remarks
Always check if the suggestions are matching the contract. Although they are in most cases correct, please note that we cannot guarantee complete accuracy.
The metadata values that haven't been accepted (= values in purple color) will never be included in the Archive filtering and reporting
Precisely AI works with most of the languages, and it can even automatically translate some of the content in English, such as a contract description and some metadata outputs.
If you have automated metadata for uploaded file on a template level, and you also get a suggestion for the same metadata point, both will be included. You're always able to edit, add and remove metadata tags and outputs after you generate a document.
Currently, Precisely AI might not work if the document's size is too large
Third-party providers
For Precisely AI as an add-on subscription, we utilize the API of our third-party providers. Currently, we offer two solutions:
Azure OpenAI EU (default setting)
OpenAI US
For more information, please refer to our Supplementary Terms.
Any questions remaining? Get in touch!