Learn how to add your company logo to contracts you generate from templates, as well as signing or review request emails
You can add your logo to a template, causing all contracts generated from that template to have your logo.
Step 1: Importing your logo
An admin of your organization can import your logo:
Click your organization's name in the top right corner and choose settings,

Click the green Add logo button at the bottom of the settings to import your logo, and

Choose where in the header of your contracts the logo should appear (either left, center or right).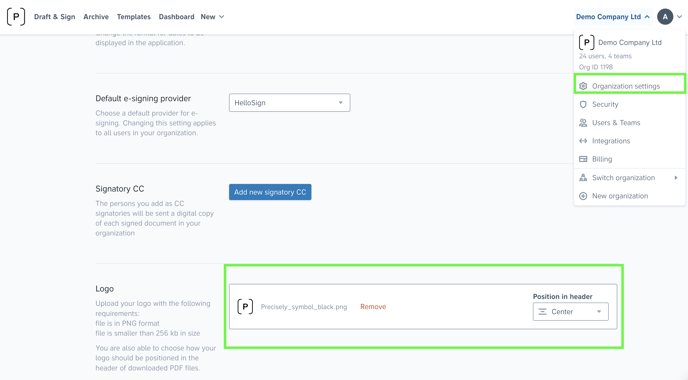 Step 2: Activating your logo on a template
To activate the logo on a template, simply
Click Templates in the top menu and choose the template on which your want to show your logo,

Click the options button (the three dots) to the right of the document(s) that should have the logo and choose Rename,

Activate the Show logo switch (it's blue when activated and gray when deactivated) and click the blue Save button.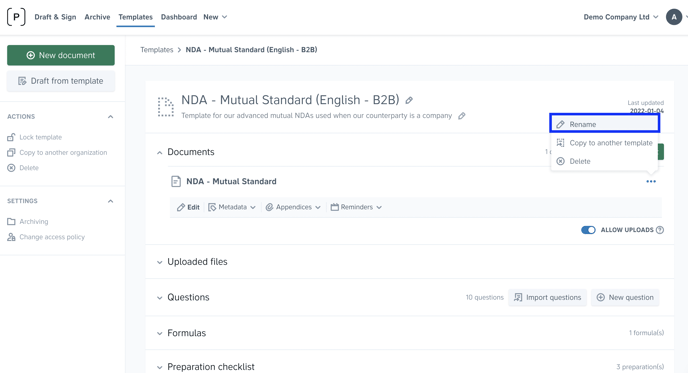 The logo will appear in the document(s) that you activated Show logo for each time you generate a contract from the template.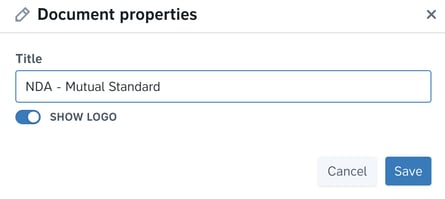 Please note: Your logo will still not be visible in the Precisely platform when the project is generated from that template. But don't worry - it is visible when signing parties open the email link to sign the agreement. It is also visible in the final version of a signed PDF format.
P.S: We support .PNG files and with a maximum file size of 256kb.