Learn how to send a contract for review, comment on a contract and come to terms with internal and external stakeholders with Precisely
You can negotiate the contracts created in Precisely by sending them for review, allowing internal or external users to leave messages about them.
Optionally, you can also allow your counterparty to make suggestions, which includes redlining, commenting on their content, downloading them to edit them in their local environment, and uploading their own suggested versions.
Sending a contract for negotiation
To send a draft document for review, simply
Click Draft & sign in the top menu and click the project which contains a document that should be sent for negotiation,

Click the Reviewers button below the document, enter the reviewer's information and click Send invitation,

The reviewer(s) will receive an invitation to review the draft via email.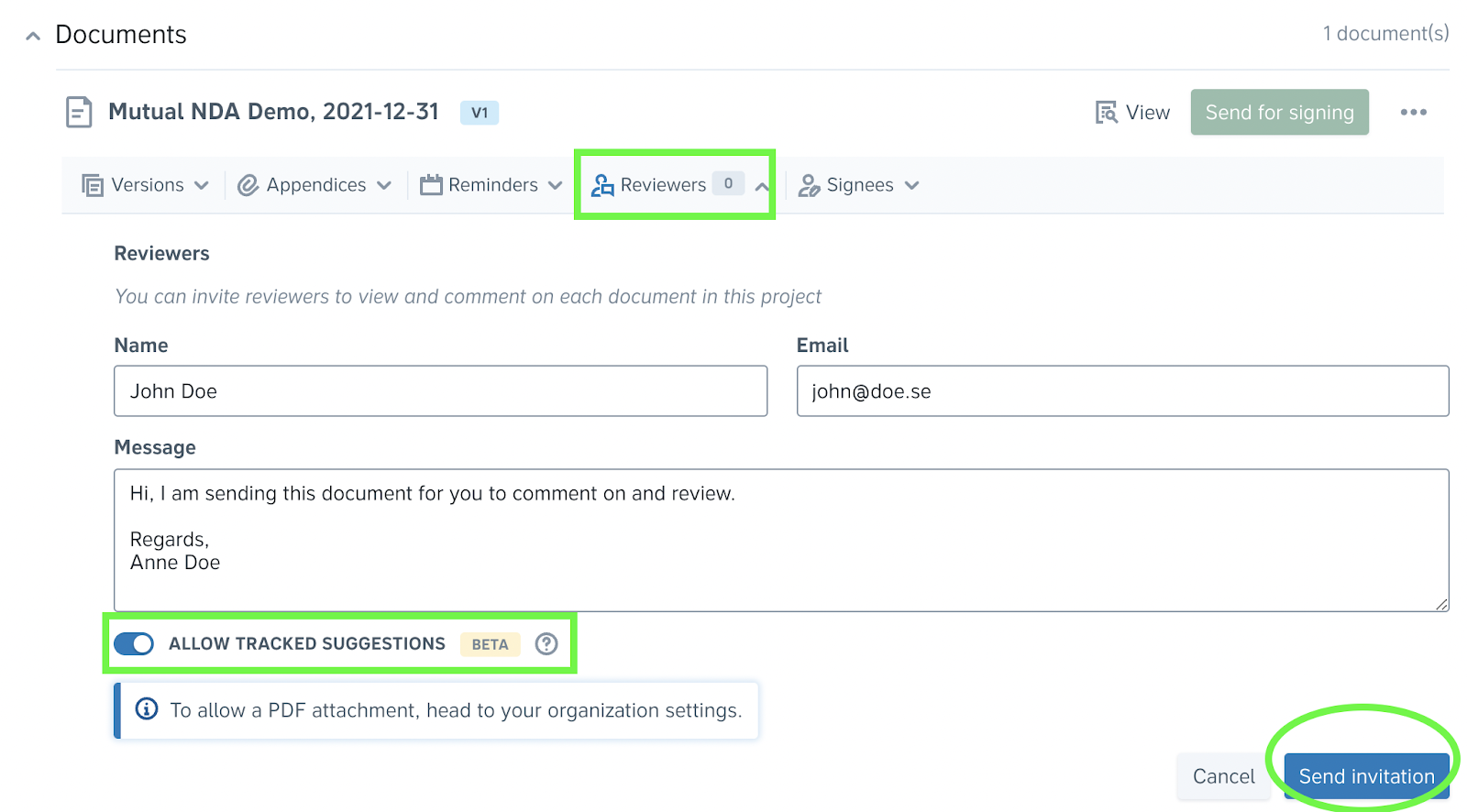 You can easily decide whether or not reviewers are allowed to redline the documents, comment on their content, download them, and upload their own suggested versions by activating or deactivating the Allow tracked suggestions switcher.
Note! The suggest mode is still in its BETA version. Therefore, it might not be automatically available to your organization. Contact our team if you'd like to enable the suggest mode.
Reviewers can always leave general messages about the document, whether tracked suggestions are enabled or not.
The invited reviewers access the negotiation view through their email invitation, while you - the person who invited an external party for a review - can review by clicking the blue Review button in the project's overview.

Pro tip: You can make messages internal by activating Make message internal in the negotiation view. Internal messages are characterized by their yellow color and are only visible to users in your organization with access to the project.

Once suggestions have been made, you will receive an email notification.
External user authentication
To ensure that only the invited counterparty can access the document you sent for review, external users receive an authentication code that they must enter to access the negotiation view.
Authentication codes are valid for 20 minutes. Once expired, external users can easily have a new authentication code sent to their email address from the authentication page.